As I mentioned in the previous entry, I was lucky to join two English conversation classes in Lafayette. In the first class, I wanted to tell my gratitude to the teacher and the students when the lesson was over, but I had no idea how to say it; just saying "thank you " wasn't enough to describe my feeling at that time. I was thinking and thinking what I should say during the class. What I wanted to tell was that I thanked they allowed me to join the class, so I said "thank you for having me" to the teacher. In another class, I also thanked the teacher and the students with saying the same phrase. I wasn't sure it was suitable for the situation, but the teachers seemed to understand what I wanted to say.
The other day, when I was enjoying surfing on youtube, I happened to hear "thank you for having me" from musicians who were invited TV programs as special guests. I said "thank you for having me " at that time, but it might be a bit strange to the teachers. If so, I'm embarrassed.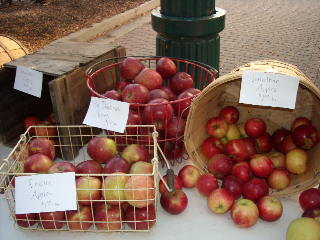 My friend and I went to the farmers market in the town after the English class. This is a picture of one of the shops. Isn't it lovely? An Amish girl was selling them.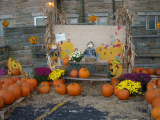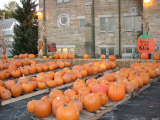 Then we found this place by chance when driving. This was called "pumpkin patch" held by a church for donation. People working there welcomed us with smile. They sold several kinds of things, including these pumpkins! We met the Amish girl who was selling vegetables and fruits at the farmers market again. What a coincidence!
ここで犬用スナックを間違えて試食しちゃったってことは日本語で書き加えておこう。自分のいやしさに泣けた

歯ごたえたっぷりで体に良さそうだったけどね!
Thanks to my friend, I was very lucky to join an English class in a university, which was for ESL students. Sometimes I watch a TV program called "テレビで留学" on NHK. I often think I wish I could join them, so it was kind of like one of my dreams came true even only 2 hours. Most of the students in the class were from Asian countries and the teacher was nice and decent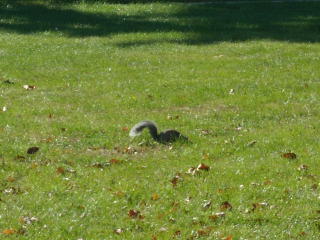 In the afternoon, my friend took me to another English class in the town. The students there were from several countries, like South America or Middle East.
大統領選約1ヶ月前ということで、街中ではオバマ支持を表明する看板を庭先によく見かけた。圧倒的にオバマ看板が多かったけど、たった一軒マケイン&ペイリン看板があった。
「テレビで留学」と言えば、先日新しい単語を覚えた。それは"oxymoron"。なんて変な響き。まったく真逆のことをさすときに使うらしい。その日のテーマは「学生にボランティアを強いることについて」だったのだが、まさにボランティアを強制することはおきしもろん。