What do you think is this? This is a chicken noodle plate. You can see something 3cm. These are noodles. This was good, but was large to me. So I learned a new phrase "bag please" and this turned into my breakfast the next morning.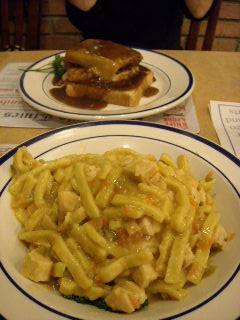 This is a Mexican omelet I ate at a food court in Indiana Police airport. I enjoyed it before heading to NY. It was hot and tasty!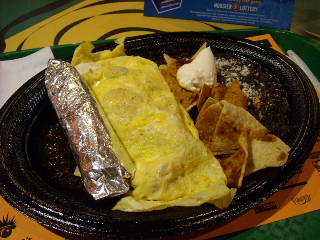 I live in a rural area in Japan.
Lafayette
in Indiana was quite similar to my town, I thought. There were some shopping moles and DIY shops, and lots of big restaurants were along the streets. People in the town use their own cars instead of using public transportation. It was just like my town, but the size was totally different, of course.
This time I'll show some meals I had in Lafayette. I had wanted to eat something like 'America! ' before visiting there. And …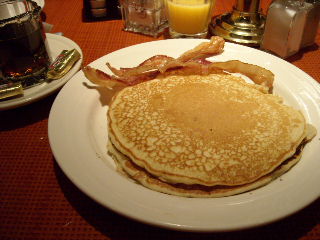 Look at this beautiful pancake! I was quite happy when I was eating this for breakfast with 2 cubes of butter and maple syrup in a coffee mug. I found that pancake was different from Japanese "hot cake." This was not that thick and was a bit salty. That salty taste and maple syrup went well together very much.
This is a grilled chicken salad. You can see a plate of mashed potatoes in the back of the picture, which my friend ordered. During my stay there, some meals were served with mashed potatoes. They were good.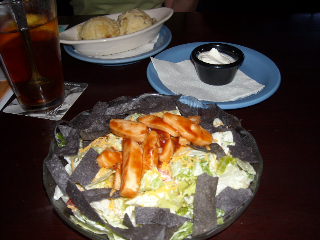 Have any of you visited Indiana in the US?
I visited Indiana and NY last week. I'm going to write about the trip after recovering from terrible jet lag.
日本人で、いや、欧米の人でも、はたまたアメリカ人でさえ、レースの季節でもないのにインディアナに観光に来る人は珍しいんだな、と思わされる入国審査だった。
うぉー!!やったー!やっと写真がアップできた。やっと1枚。インディアナらしい1枚を選んでみました。
I'm leaving for America in a few days. Last Wednesday, I happened to find a book called
「楽園 上」 宮部みゆき 
in the library. I really love reading a good mystery novel. I have read her several works and all of them were interesting for me. Her novels are so popular that you can hardly borrow them in the library without reservation. I had the luck to borrow it by chance. Afterward, I started reading it and finished it just today. Before finishing reading it, I reserved
「楽園 下」
through the net. I thought if I got it before leaving Japan, I could enjoy reading it in the plane. It would help me with killing time during the flight. Now I have got one problem that I was able to get it just today. If I started reading it right now, I will definitely finish reading it in two days or so. It means I will get bored in the plane. To start to read, or not to start, that is the question.