"Planet earth is like a big rental apartment floating in space." I heard this line in a movie the other day. It followed "…human being just rent the land of the earth to live, so we should take good care of it! If you don'…" I don't mean this touched me. I just laughed out loud because the movie was 『
鷹の爪 the movie総統は二度死ぬ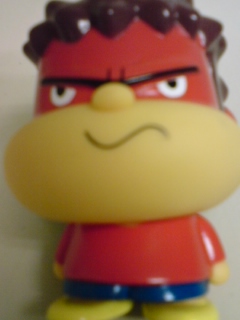 』。
I started this blog for practicing English writing. This time I'll write about my English study. I listen to some pod cast programs:
David Barker's 英語と仲直りできるポッドキャスト

,
Bob and Rob show
and
Grammar Girl Quick and Dirty Tips for Better Writing
(not glamour). Grammar Girl is a program for those who want to improve their writing skills. The host, Grammar girl, explains something confusing when you write English, like "between versus among" or "who versus that" and so on. It's pretty high level, but you can read every script on the website. By listening to it, you can improve your listening skills, grammatical knowledge and you also develop your vocabulary in English grammar.
学校で文法から英語を勉強した日本人からすると、「え!そんなところで?!」ってところで、英語ネイティブは悩むらしい。thanとthenとか。
What do you think is this tiger doing? He is driving drunk. At first I thought this tiger was drinking and smoking. The steering wheel looked like an ashtray with a cigarette. It looked kind of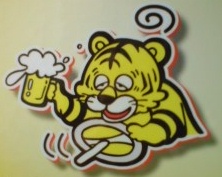 strange that the tail of the cigarette was at the other side of him, but I had no idea I was wrong till someone told me. After all, you only see something you want to see, you can't see anything you don't want to see. That's life.
不満。なぜ、英文用に改行してくれないのか。
I often watch a TV program called "Tokudane" ("scoop") that is a news and variety show aired from Monday to Friday in the morning. In the show, my favorite is "Tokumori" where an announcer, Mr. Kasai, introduces some topics in the news on the day. Then he picks up one of them and explains it in more depth with using pictures and figures on a board called "tokumori board". It helps to understand something difficult like politics and economy, also I feel like I'm watching a well-prepared show. If you watched it once, you would know that Mr. Kasai is making a great effort behind the scene.
Because "Tokumori" focuses on someone or something that people are talking about, the Prime Minister, Mr. Fukuda has often been featured. On the "tokumori board", he was turned into a skier to plummet down a big slope of his support rating, or jumped over mushrooms one after another while avoiding bombs of a censure motion(問責決議案) as Super Mario.
笠井さんもおもしろいが、小倉さんも好きだ。佐々木さんもかわいらしい。
以前、スポーツマンNo1決定戦で、ケイン・コスギがスピーチの中でやたらと"you"を連発するので不思議な感じがしたけれと、あれは一般人をあらわすyouだということが後でわかった。学校では習わない英語ですね。使い方に自信がないな・・・。
Did I watch the moment of changing the generation? I'm talking about the French Open men's singles final this year. Rafael Nadal beat Roger Federer 6-1, 6-3, 6-0 to win a fourth consecutive title at Roland Garros. You could expect Nadal's win because he is great at playing on a clay-court, but who expected how the game was going on. Thinking about the ages of Nadal and other good players who are becoming stronger, Federer is a little older. But I hope this 2 kings' era (please don't include Novak Dokovic yet!) will last a bit longer. I'm just a fan of Roger Federer!
Speaking of broadcasting of sports, I liked the announcer who navigated the French Open on WOWOW. I'm familiar with the announcer's voice because I think he always works on tennis matches. He often says 「来ました、来ました!」(means "it's coming"?) in his excitement when a player is about to serve the ball for the championship point. I really like it. I also used to like hearing an NHK announcer saying, 「手はついてません。」 " he/she didn't land on the hand" in a calm manner in figure skating competitions when skaters fell down . I felt his kindness every time he said so.
あ~疲れた。これだけ書くのに一苦労。
「ナダルがフェデラーに圧勝」と言いたかったのだけど、どう表現してよいかわからず、ネットで見つけた記事から"Rafael Nadal beat Roger Federer 6-1, 6-3, 6-0 to win a fourth consecutive title at Roland Garros. " この部分を
盗用
、参考にしました。それでも to win の辺りの不定詞の使い方が良くわからない。
I just decided to have my own blog. I came up with this idea when I was driving yesterday, because I was so bored and had nothing to do. I'll welcome any correction on my English. Thanks for reading.
see you,