I told
Tricia
one of my friends is working in Africa as a volunteer. She asked me if the friend was a doctor or a nurse. My friend is not a doctor and I had no idea what I would answer to her question. I thought and thought, and said," she is nothing." A second later, Tricia burst into laughing in the quiet plane.
これからアフリカに行くと言うトリシアに、「私の友達にアフリカでボランティアとして働いている人がいるよ」と話したところ、「その友達はなにをやっているの?医者?看護士?」と聞いてきたのでした。その友達(女子)は医者でも看護士でもないので、むむ~、と考えてひねり出した英語が"she is nothing."でした。次の瞬間、トリシアの笑い声が静まった機内に響き渡ったのでした。
ごめんよ、マイフレンド。
前回のお話。
インディアナの3日間、時差ぼけで良く眠れなかったので、お友達と別れて1人でニューヨークに行くことになんだか気力体力ともに弱気になっていたのでした。そして、飛行機で隣り合ったのが白人女性のトリシア。30歳の娘がいると言っていたので年のころなら50歳過ぎくらいでしょうか。なんか、親切な感じの素敵な人でした。これからアフリカにキリスト教関係の活動のために行くと言っていた彼女は「あなたは神を信じる?」と私に聞いてきたのでした。日本人にとって宗教の話は難しいんですよね・・・。
While talking, I was becoming sleepy. It was a comfortable feeling I got for the first time in the three days and I fell into a sleep... When I work up a few hours later, I was flying over Manhattan. I found myself getting better and kind of stronger. I felt like getting some power for my next adventure. I told Tricia (Tricia was her name) how much I got better thanks to her. Tricia looked a bit surprised and said, "It's not me. It's God. God touched you." Though I am not a religious person, the warm feeling I had at that time let me believe in the existence of something. Then she improvised a prayer to wish me luck and gave a small booklet about God. What a wonderful experience (Have any of you had someone who said a prayer for you??)! Yet I don't practice any religion, I still remember that it seemed as if something was beside me at the moment. If "something" existed, she may have been an angel. Thank you, Tricia!
トリシアとポツポツおしゃべりをしていたらなんだか眠くなってきて、そのままぐぐぅっと寝入ってしまったのでした。インディアナでは時差ぼけで眠れず、久々の心地よい眠り。あ~最高。
そして、目を覚ますと陸地の上空を飛んでいたのでした。「ここどこ?」(私)「マンハッタンよ!」(トリシア 注:ホントは英語です)
短時間でもしっかり寝たのでなんだかすっきりして、気力が沸いてきました。「あなたとおしゃべりできたおかげで元気になった。パワーアップした気がする」とトリシアに言うと、ちょっと驚いた顔で「それは私じゃない。神様があなたにタッチしたのよ」というではないですか。もちろん驚いたけど、そう言われれば信じてしまえるほど、元気復活だったのでした。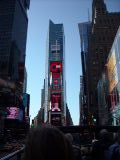 そして彼女は飛行機が着陸する直前、私のために祈ってくれて、お互い旅の無事を祈りつつ別れたのでした。本当に信仰している人の言う「神」と、私の言う「かみさま~」は違うものだと思います。それでも、あの瞬間は「なんかいる!」と思えたのでした。そして、「なんか」がいたのなら、トリシアはその使者だったのかもしれません。そう信じるのもいいでしょう?出会いは旅の醍醐味ですから。
An actress, Marion Cotillard, said, "there is some angels in this city (Los Angels)," in her speech on the Oscar night last year. After spending for 3 days in Indiana, I flew to NY. As I couldn't sleep well in Indiana during my stay, I felt tired and got nervous to go to NY, because I was going to be all alone there. In the plane, I met an angel too...
I sat next to a woman who was nice and sweet. She was going to Africa to work on an activity of Christianity. After having a small talk, she asked me if I believed in God. This is a difficult question. Though Japanese people are believed to be Buddhist, it is not exactly true. Most Japanese people are not so religious. As for me, I don't practice any religion, and I think religion is like a guideline for Japanese people to live rightly. In other words, it is kind of philosophy. I told her so with my poor English. She listened to me patiently as if I was a child or her student.
to be continued...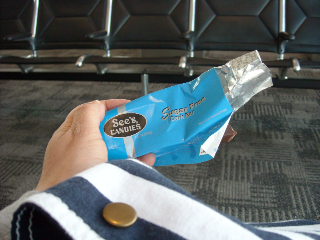 空港で食べたチョコレート。心が弱っているときの甘いものは効きますね。
How do you pronounce the word "ticket"? As I mentioned it before here, I joined an English class in Indiana. The teacher told that we, the students studying English as a second language, do not pronounce the word "ticket" properly and it sounds as if it is a two-syllable word. It is interesting. I knew the word was a one-syllable word and I thought I could say it clearly. I must care about the pronunciation when I say it from now on.
「チケット」という英単語をちゃんと発音できますか?インディアナで参加させてもらった英語のクラスで、先生がおもしろいことをおっしゃっていた。「あなたたちの『チケット』の発音は『チ
ケッ
ト』に聞こえる」と。ネイティブの耳には2音節の単語に聞こえるそうです。実におもしろい。自分ではきちんと発音しているつもりだったけど、それ以来、意識して気をつけるようになりました。正しくは『
ティ
ケット』ですよ。
As I mentioned in the previous entry, I was lucky to join two English conversation classes in Lafayette. In the first class, I wanted to tell my gratitude to the teacher and the students when the lesson was over, but I had no idea how to say it; just saying "thank you " wasn't enough to describe my feeling at that time. I was thinking and thinking what I should say during the class. What I wanted to tell was that I thanked they allowed me to join the class, so I said "thank you for having me" to the teacher. In another class, I also thanked the teacher and the students with saying the same phrase. I wasn't sure it was suitable for the situation, but the teachers seemed to understand what I wanted to say.
The other day, when I was enjoying surfing on youtube, I happened to hear "thank you for having me" from musicians who were invited TV programs as special guests. I said "thank you for having me " at that time, but it might be a bit strange to the teachers. If so, I'm embarrassed.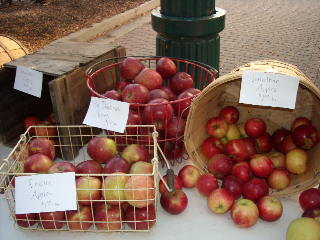 My friend and I went to the farmers market in the town after the English class. This is a picture of one of the shops. Isn't it lovely? An Amish girl was selling them.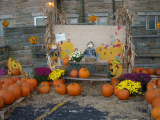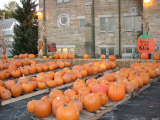 Then we found this place by chance when driving. This was called "pumpkin patch" held by a church for donation. People working there welcomed us with smile. They sold several kinds of things, including these pumpkins! We met the Amish girl who was selling vegetables and fruits at the farmers market again. What a coincidence!
ここで犬用スナックを間違えて試食しちゃったってことは日本語で書き加えておこう。自分のいやしさに泣けた

歯ごたえたっぷりで体に良さそうだったけどね!
Thanks to my friend, I was very lucky to join an English class in a university, which was for ESL students. Sometimes I watch a TV program called "テレビで留学" on NHK. I often think I wish I could join them, so it was kind of like one of my dreams came true even only 2 hours. Most of the students in the class were from Asian countries and the teacher was nice and decent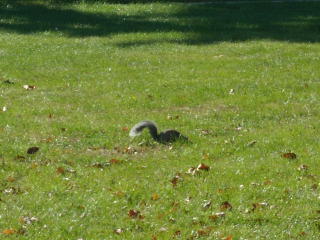 In the afternoon, my friend took me to another English class in the town. The students there were from several countries, like South America or Middle East.
大統領選約1ヶ月前ということで、街中ではオバマ支持を表明する看板を庭先によく見かけた。圧倒的にオバマ看板が多かったけど、たった一軒マケイン&ペイリン看板があった。
「テレビで留学」と言えば、先日新しい単語を覚えた。それは"oxymoron"。なんて変な響き。まったく真逆のことをさすときに使うらしい。その日のテーマは「学生にボランティアを強いることについて」だったのだが、まさにボランティアを強制することはおきしもろん。
What do you think is this? This is a chicken noodle plate. You can see something 3cm. These are noodles. This was good, but was large to me. So I learned a new phrase "bag please" and this turned into my breakfast the next morning.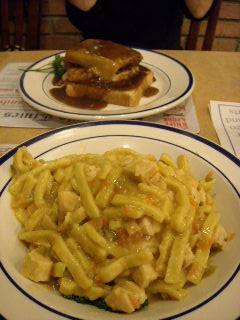 This is a Mexican omelet I ate at a food court in Indiana Police airport. I enjoyed it before heading to NY. It was hot and tasty!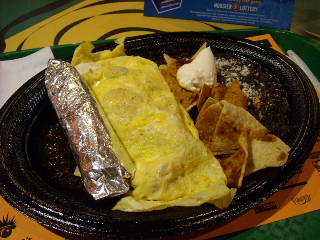 I live in a rural area in Japan.
Lafayette
in Indiana was quite similar to my town, I thought. There were some shopping moles and DIY shops, and lots of big restaurants were along the streets. People in the town use their own cars instead of using public transportation. It was just like my town, but the size was totally different, of course.
This time I'll show some meals I had in Lafayette. I had wanted to eat something like 'America! ' before visiting there. And …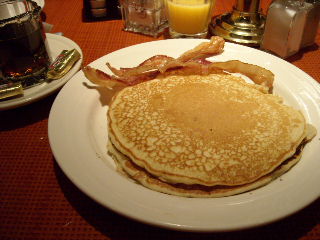 Look at this beautiful pancake! I was quite happy when I was eating this for breakfast with 2 cubes of butter and maple syrup in a coffee mug. I found that pancake was different from Japanese "hot cake." This was not that thick and was a bit salty. That salty taste and maple syrup went well together very much.
This is a grilled chicken salad. You can see a plate of mashed potatoes in the back of the picture, which my friend ordered. During my stay there, some meals were served with mashed potatoes. They were good.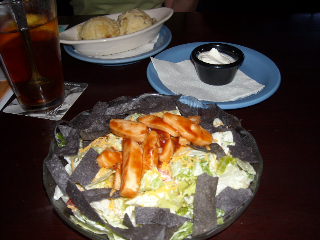 Have any of you visited Indiana in the US?
I visited Indiana and NY last week. I'm going to write about the trip after recovering from terrible jet lag.
日本人で、いや、欧米の人でも、はたまたアメリカ人でさえ、レースの季節でもないのにインディアナに観光に来る人は珍しいんだな、と思わされる入国審査だった。
うぉー!!やったー!やっと写真がアップできた。やっと1枚。インディアナらしい1枚を選んでみました。