I'm really really stressed out! I can't controll myself for now...
so scaring! it was like standing on the boat at sea.
Hi there! It's been a while, but I have not quit blogging. My new year's resolution is to try not to get information I don't really need. Do I have to know gossips among comedians on TV?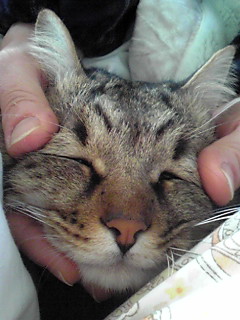 いじめてないよ。猫は顔マッサージが大好き。
"You should always keep thinking something positive so that you could make a wish upon a shooting star whenever it falls."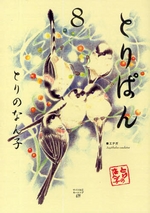 This is from one of my favorite comics called "Toripan."
日本語をそのまま引用しちゃったらダメだと思うけど、英語に直せばいいかな。この1文、ちょっといいな、と思って。
I think I fall in love with Makoto in IWGP. I have read every single one in this series, including the latest one. Something happening in Ikebukuro is happening everywhere in Japan, like the issue about curtailing temp workers. The first one of the series started about 10 years ago, since then Makoto has been sprinting across Ikebukuro as a trouble-shooter to solve the problems on the street. I feel that social environment in Japan has become worse and worse in these 10 years.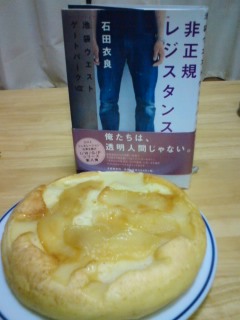 The cover in the picture is the second latest one and big apple cake.
More
What had I done? No, what had Not I done? I missed Federer's win in French Open yesterday. Actually I watched his match until the third set over and went to bed at 2 am. Federer was 2 sets behind at that time, so I sadly thought he was not going to win because the opponent was playing great. What happened after that? Anyway, I am a big fan of him and I really hope that he seizes the grand slam title this time. I believe all tennis fan wish him luck. Go, Federer!!
やってもうた!昨日のフェデラーの試合、見逃した!
実際は第3セットが終わるところまで見ていたのですが、デルポトロが絶好調でフェデラーは2セット目のタイブレークしか良いところ無しで、このままじゃ負けるな・・と残念な気持ちで2時ごろ寝ちゃったら、なんと、勝ってた!見逃した!悔しいです!
ともあれ、明日の決勝、ここまで来たら優勝してもらいましょう。悲願の全仏タイトル、取ってください。お客さんもそう思ってるはずです!
ゴー!フェデラー!
WOWOWのテニス解説の柳さん、大好きです。解説もおもしろいけど、何よりテニスが好き!ってことが伝わってきます。そして、フェデラーの大ファンであることも知っています。柳さん曰く「(フェデラーの)夢のようなテニス」明日は見せてくれるでしょうか?
I don't watch baseball games, but I like Ichiro. I always pay attention what he says; I call it "ご神託". I hear that he often tells kids playing baseball to take good care of their bats and gloves when he is asked how to be a good baseball player. I think he is trying to tell them how important to prepare for a good performance. In an interview, he was asked if he saw an ideal figure at the end of his baseball journey. He answered "…yes, but I have just an obscure imagery… I am always in complete darkness. Even so, if I keep going, I could find a small ray of hope into the far distance. I believe. "
野球は見ないのだけど、イチローは好きだ。イチローの発言にはいつも注目してしまう。私はそれを「ご神託」と呼んでいる。だっておもしろいんだもん。イチローはいつも、野球少年に「どうしたら野球がうまくなるか」と質問されると「道具を大事にしなさい」と答えるそうだ。それはきっと、野球に対する心構えと、良いプレイをするためには、しっかり準備が必要なのだと言いたいのだろう。
以前、あるインタビューで「そのストイックな努力の果てには、理想の姿のようなものがみえているのか」という質問に対し、「理想の姿はなんとなく、あります。でも、常に真っ暗闇の中にいます。それでも、努力を続けることで希望の光が見えてくると信じています」と答えていた。やっぱり好きだ、イチロー。
一口メモ。
最後のセンテンスの中で、日本語で言う「それでも」と言いたかったのだけど、最初に書いたのは"yet"。その後に"still"が浮かんで、ちょっと調べて"even so"に変えてみた。んんー、どれが良かったかな。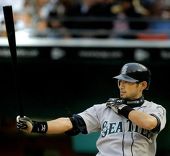 The other day, a TV newscaster told that Nike was going to cut down 1400 people. The newscaster continued, "Nike says, when it comes to layoff, there might be no choice, but JUST DO IT." Did I hear that right?
えー。ほんとに言ったの、ナイキ?
I am one of those people who were moved by Mao Asada at the figure skating competition last Sunday. She was really great at her performance; also she was a fighter and a real athlete. Right after finishing her performance, she was so cute. It made me cry! I don't know why! Though she is far younger than me, she inspired me to do something I must do right now, not figure skating. It's December. I will end this year with smile.
だからがんばるのだ~

I'm leaving for America in a few days. Last Wednesday, I happened to find a book called
「楽園 上」 宮部みゆき 
in the library. I really love reading a good mystery novel. I have read her several works and all of them were interesting for me. Her novels are so popular that you can hardly borrow them in the library without reservation. I had the luck to borrow it by chance. Afterward, I started reading it and finished it just today. Before finishing reading it, I reserved
「楽園 下」
through the net. I thought if I got it before leaving Japan, I could enjoy reading it in the plane. It would help me with killing time during the flight. Now I have got one problem that I was able to get it just today. If I started reading it right now, I will definitely finish reading it in two days or so. It means I will get bored in the plane. To start to read, or not to start, that is the question.