Trip to America⑨ ~機上編:there must be an angle~
An actress, Marion Cotillard, said, "there is some angels in this city (Los Angels)," in her speech on the Oscar night last year. After spending for 3 days in Indiana, I flew to NY. As I couldn't sleep well in Indiana during my stay, I felt tired and got nervous to go to NY, because I was going to be all alone there. In the plane, I met an angel too...
I sat next to a woman who was nice and sweet. She was going to Africa to work on an activity of Christianity. After having a small talk, she asked me if I believed in God. This is a difficult question. Though Japanese people are believed to be Buddhist, it is not exactly true. Most Japanese people are not so religious. As for me, I don't practice any religion, and I think religion is like a guideline for Japanese people to live rightly. In other words, it is kind of philosophy. I told her so with my poor English. She listened to me patiently as if I was a child or her student.
to be continued...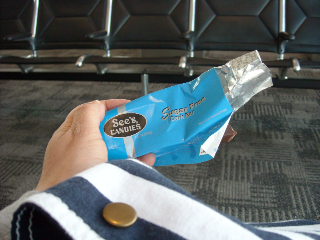 空港で食べたチョコレート。心が弱っているときの甘いものは効きますね。